Event Takeaways
Amy Siskind '87: "You Can't Have It All, But You Can Have YOUR All"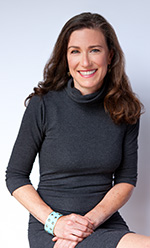 Afternoon keynote speaker, Amy Siskind ('87), gave a "tell-like-it-is" speech on owning your all. As the President and Co-founder of The New Agenda, an organization dedicated to changing the media's attitude towards women and young girls, she had a lot to say on the matter of gender inequality. Amy graduated from Cornell in the late 1980s, a time where women were told that the world was their oyster. Since then, the rise of technology has increased the number of different media outlets ten-fold. This has caused women to be bombarded daily by hundreds of messages telling us how to act and what our role is in society–messages typically relayed by white men. Amy relayed some extremely disturbing statistics, indicating that we are actually backtracking in terms of female empowerment:
In 1987, 38% of STEM (Science, Technology, Engineering, and Math) majors were women; today that number has decreased to 17%
Also since the late 1980s, the number of women working on Wall Street has fallen by 22%
A study conducted at Princeton revealed that women are less compelled to take on leadership positions and that in a typical classroom, female students were hesitant to raise their hands
As a woman, the only way to solve this issue is by becoming a more conscious consumer of these messages. We need to be better at filtering out what is reality versus what is someone else's opinion on "what a woman should be". The debate about whether or not women can "have it all" (the ideal work-family life balance) has been thoroughly exhausted with no real conclusion. Instead, let's focus on "having YOUR all"–whatever personal choices will lead you to happy and fulfilling life.
1. Think of Your Life in Chapters
Sitting here now, in your 20s you do not need to be thinking about where you will be in your 30s, 40s, 50s, etc. 
Don't waste your time worrying about how your life will play out–focus on putting 101% into everything you do.
At your first job, don't expect to be the CEO within the next two years. Just focus on building your brand and differentiating yourself by working hard, delivering results, and being consistent. 
Learn how to help yourself, before helping others. Women are often told that they need to be selfless and support the people around them–don't forget about yourself.
Achieve economic independence. Almost every negative issue that impacts women (such as domestic violence) is due to the lack of economic empowerment.
2. Learn to Make Decisions
It is too easy for us to let our non-decisions become our decisions–decision-making is a skillset and it needs to be learned.
There are four steps to making a decision:

Gather the facts
Seek out your experts
Trust your instincts
Make the decision and move forward–
3. Practice Courage
"Courage is more exhilarating than fear and in the long run it is easier" – Eleanor Roosevelt
Courage, like decision-making is a skill
Commit to making one courageous act each week–whether that means raising your hand in class, talking to an intimidating professor, or running for an executive position in your club
4. Chase Your Dreams and Passions
Throughout every chapter of your life, it is important to have dreams and passions because they will give your life meaning.
If you follow your dreams, you will achieve them–don't let them dim.
Remember these three words: self-interest, selfish, and self-absorbed. It is necessary to have self-interests, don't forget yourself in your efforts to avoid being selfish.
5. Support and Be Supported
Always have a closet full of friends–make that a priority.
Life will throw you zingers and you have two choices: shrivel up, or lean on your girlfriends for help and rise and start again.
Remember that Cornell is an incubator for brilliant women and a great place to build your network
Keep and maintain those connections, and build, build, build!